Posted by The Marketing Team, Sep 26, 2013
Tags: TV, Thinkbox, VOD, Live TV, Media, Screen Life
The psychology behind emerging TV behaviours and what it means for media planners.
Thinkbox, the marketing body for all forms of commercial TV in the UK, recently visited Total Media HQ to deliver their latest round of research. The study looks at emerging TV behaviours using new techniques to get real, unbiased results on viewing behaviour.  Thinkbox's research revealed how and why audiences choose between watching TV and video on demand (VOD).
6 reasons why we watch VOD

The research revealed audiences typically indulged in six different need states in live TV viewing:
Unwind: to defer life's chores or de-stress from the pressures of the day
Comfort: shared family time; togetherness, rituals, familiarity and routine
Connect: a sense of 'plugging in – to feel a sense of connection to society, to time or to place
Experience: usually revolves around a need for fun and a sense of occasion to be shared 

Escape: the desire to be taken on an enjoyable journey to another time and place

Indulge: satisfying (typically guilty) pleasures with personal favourites, usually consumed alone
The research also displayed clear differences in the need states and media consumption for differing age groups. For example, 18-24s spend almost twice as much time in the Connect need state as 35-55s (28% v 15% respectively).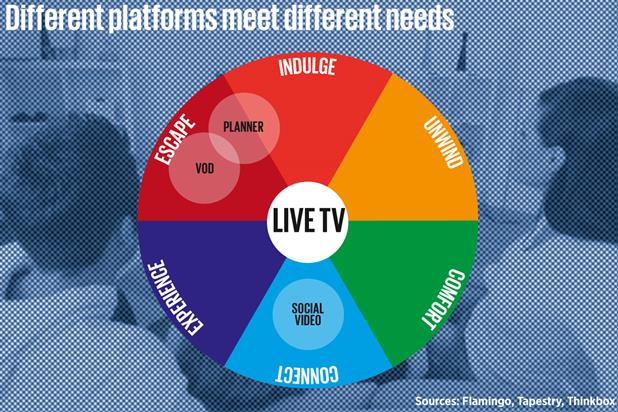 Overall the research found that individual TV platforms meet different audience needs. Live TV is the best equipped to meet all of the established need states – which goes someway to explaining why live TV is usually the starting point for most viewers. This is true even among audiences who regularly watch VOD – 60% of audiences first looked at the schedule for live TV before checking out anything else. 
VOD and planner TV are also closely affiliated in terms of audience needs and both forms of TV excel at serving our need for Escape.
How does this affect media planning and buying?
The research highlighted that advertising works differently accordingly to a person's need states – advertising will be more accepted and welcomed in certain need states such as Connect and Unwind,  than others like Escape and Indulge.
In context-based need states like Unwind, Comfort, Connect and Experience, advertising has a higher level of acceptance due to the sociality factor.
In content-based need states such as Indulge, Escape and Experience, the audience displays high levels of attention because they have personally chosen to watch that particular media content, therefore any advertising has to work extremely hard to be attractive to the viewer.
As Thinkbox points out, advertisers need to match need states with categories, tones and narratives. By following these basic rules, any media placed should deliver better results for brands.
Four Thinkbox Takeaways for VOD advertising
Need states: Plan your media against your anticipated audience's viewing need state. For example, if you're using VOD, the best form of advertising is biased towards Escape and Indulge need states. These need states are a natural fit with brands in categories such as travel, fashion, beauty and treat foods.
Get Mobile: Increasingly, research has found that VOD is consumed on smaller, portable screens and more often than not, outside of the home. This provides advertisers with the opportunity for location specific messages for interactive ad content.
Be personable: Audiences watching VOD are much more likely to watching alone and the content chosen, more personal. This is the apt moment to distribute personalised and addressable advertising. Segmentation can be based on 1st party data, brand data, public data and much more in order to customise your ad.
Reaction, interaction and transaction: Clickable ads are a huge opportunity, and VOD ads are no different. Use this as an chance to empower your viewing audience with interactive offers such as "choose your own ad format", or exploit the need states such as Indulge and Escape by advertising holiday destinations or creating interactive play along media games.
For more information about Thinkbox's research please contact Neil Mortensen: neil.mortensen@thinkbox.tv
---
 Written by Emma Jeffers from Total Media
Emma is our PR and Social Media Manager at Total and loves all things media, especially social media, and classes herself as a massive geek (her words not ours!).