Posted by The Marketing Team, Oct 13, 2014
Tags: Total Media, Media, TV, VOD, Catch up, EPG, Broadcast, TV habits
There's no doubt that the TV landscape is changing, and there's certainly no denying that we are all rapidly moving online.
More recently, TV viewing on a TV set has adopted the term 'traditional TV viewing' and many have been led to believe that TV is facing the graveyard shift.
One area that has seen a hit is the kids market. In the first half of 2014, the kids market saw an impact decrease of 4% YOY. Taking the biggest hit was Turner, owner of Cartoon Network and Boomerang, seeing a substantial 18% decline. Disney seems to have faired best, with an 80% rise in viewing, although they still saw an 11% decline towards the back end of the first half. But why is this? It is fair to say that kids TV as a whole has struggled in reaching older girls and boys, generally from the ages of 10 to 13, due to changes in interests – as is often said these days, kids are growing up too fast. But what are all these kids doing with their time if they aren't watching TV on a TV set?
Tablets take on TV's
The growth of tablets may just hold the answer. Just five years into their existence, tablets have seen substantial growth, with over 40% of the UK owning a tablet. A recent study by TV Licensing found that 26% of 12-15 year olds and a shocking 13% of 5-7 year olds now own a tablet. The same study found that kids are leading the way with watching TV in many different forms; virtually all 5-15 year olds watch TV in the 'traditional' way, but just under half in 2013 also used another device, such as a tablet, to view TV content.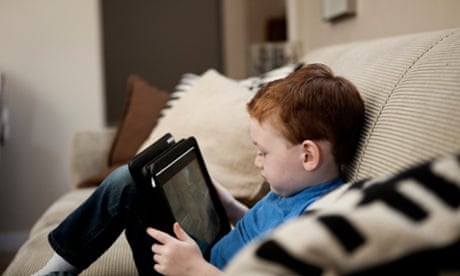 To put this into context, Channel 5's on demand service, Demand 5, consistently sees Peppa Pig come in as their top programme month-on-month, with Milkshake the most popular content for the whole site. BARB recently found that 16-24s are currently the only age group spending a daily average of 1+ hour on online TV. In comparison, only 7% of 55-64s spent time watching TV in online forms.
More TV from more sources
What this is showing is that although 'traditional TV' may on the whole be drawing in fewer viewers, although still 2.5 hours per day, the medium is not – it is the way we are consuming that is changing. As a result of such changes, we now have more exciting and innovative ways of reaching engaged audiences through sit-forward opportunities such as interactive VOD formats, online competitions and second screening. Sherlock Holmes, broadcast on New Year's Day, is a great example of how TV viewing is changing; 9.2 million people watched the episode live, but 3.54 million people watched the show within 7 days of it being aired, whether through VOD or EPG's such as Sky+. This is a great example of how much viewers are relishing the opportunities to watch what they want, when they want to.
The growth of VOD and OTT platforms such as Netflix plays into this trend perfectly. If you are a Sky HD customer, you may have noticed Sky's recent revamp of their EPG (that's Electronic Programme Guide to you and me). The service is now designed to direct customers to old content, such as the their much-advertised 'Sky Boxsets' (a great play to the latest viewing habits - who isn't spurning nights out for their latest catch-up sesh with West Wing?). And the good news for us? Even more innovative opportunities for advertising.
So, it is time we all erase the 'traditional' image of TV and embrace the ways in which we are really consuming it, across a multitude of platforms and services. When brands begin seeing these changes as an evolution, not a decline, in all forms of content (here's looking at you magazines and radio), they will be better placed to target the right people at the right time, whether they be kids with tablets or the parents themselves. 
---
Written by Jessica Venner from Total Media
Jess works as part of the Broadcast team and loves strategy, customer/client relationship-building and a half-hourly snack or two.